11 Course Track
Cloud Based Data Science
The following 11 courses are included in this track...
Introduction to DataTrail, Google and the Cloud, Organizing Data Science Projects, Version Control, Introduction to R, Data Tidying, Data Visualization, Getting Data, Data Analysis, Written and Oral Communication in Data Science, Getting a Job in Data Science
EU customers: Price excludes VAT.
VAT is added during checkout.
About the Track
Cloud Based Data Science (CBDS) is a free online educational to help anyone who can read, write, and use a computer to move into data science, the number one rated job. It is a sequence of 11 MOOCs offered by faculty members in the Johns Hopkins Department of Biostatistics, Bloomberg School of Public Health.
Data science jobs are in demand and well regarded, but it is challenging to break into the field. Some of these challenges include:
Data science training requires expensive computers
Data science training is expensive
Data science jobs are centralized in tech centers
Data science jobs require connections
This sequence of courses teaches you the basics all the way from word processing to basic data analysis and how to network and get a job in data science. The courses are available on a "pay what you want/can" model so that they are accessible to everyone. All proceeds that go to the JHU Data Science Lab will be redirected to help improve training and placement in data science for individuals from under-served backgrounds through the Cloud Based Data Science Plus program.
Learn more about Cloud Based Data Science from the Johns Hopkins Data Science Lab.
Verified Certificate
When you successfully complete the Track, you will receive a verified Certificate of Completion from Leanpub, certifying that you have completed the entire Track.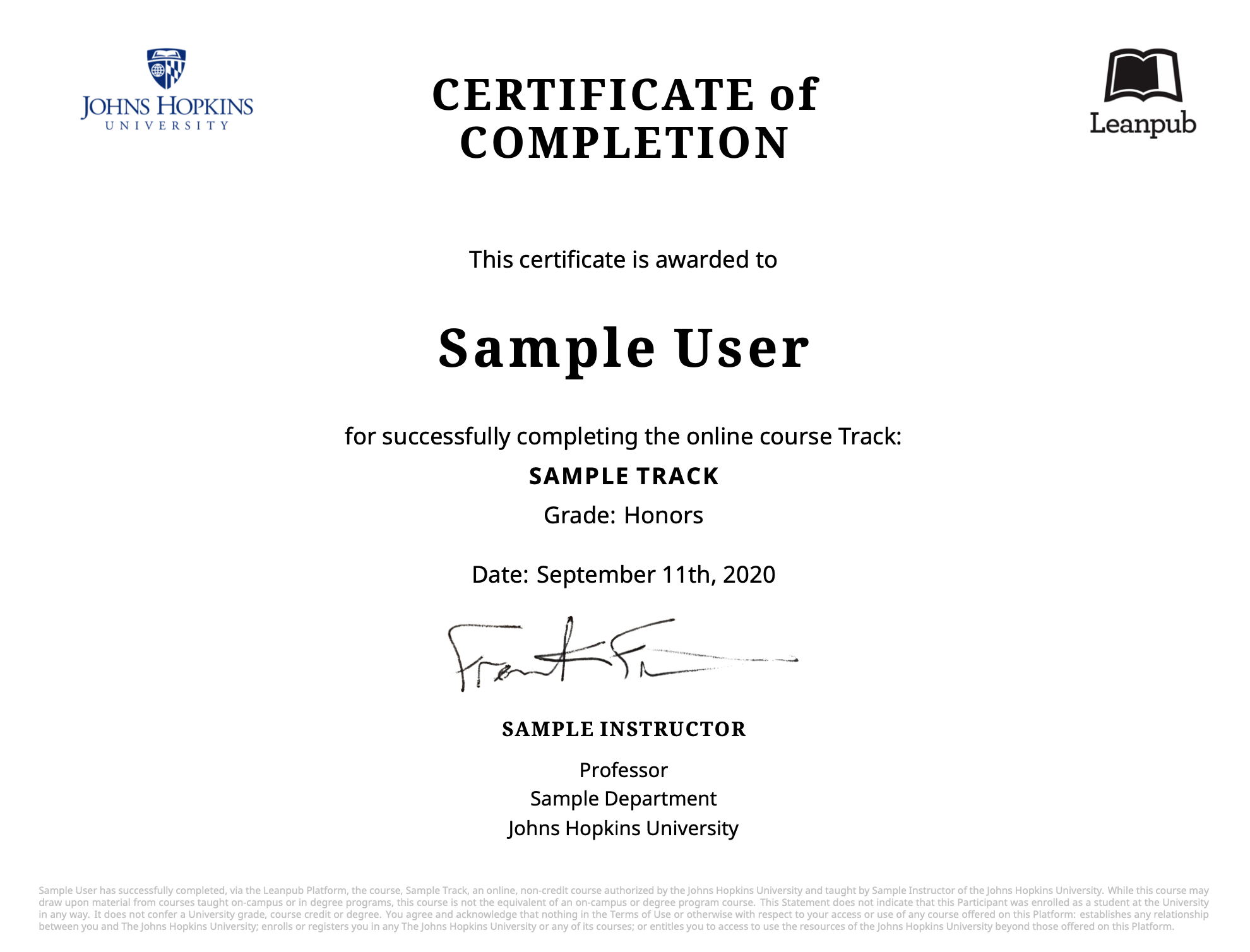 Instructors
Sarah is Human Genetics PhD student in the Institute of Genetic Medicine at Johns Hopkins. She studies the role of regulatory variation in neurodegenerative and neuropsychiatric diseases, like Parkinson disease and schizophrenia.
The Leanpub 60-day 100% Happiness Guarantee
Within 60 days of purchase you can get a 100% refund on any Leanpub purchase, in two clicks.

See full terms