Cover Material, Copyright, and License
Copyright 2022 Mark Watson. All rights reserved. This book may be shared using the Creative Commons "share and share alike, no modifications, no commercial reuse" license.
This eBook will be updated occasionally so please periodically check the leanpub.com web page for this book for updates.
This is the first edition released spring of 2022.
If you would like to support my work please consider purchasing my books on Leanpub and star my git repositories that you find useful on GitHub. You can also interact with me on social media on Mastodon and Twitter.
Preface
Why use Swift for hacking AI? Common Lisp has been my go-to language for artificial intelligence development and research since 1982. The transition to using Swift was a slow transition for me. During this transition I prototyped a new project in parallel using both Swift and Common Lisp, weighing the advantages of both for my current requirements. The Swift version of this project included in this book runs on macOS, iOS, and iPadOS. The macOS version is available on the Apple Store. Several of the utilities developed in this book were used in this project.
This book starts out slowly with simple examples which I wrote showing how to access the Swift library packages on GitHub, tips on writing Swift command line apps, and web scraping. We then proceed to using Apple's CoreML for Natural Language Processing (NLP), training and using your own CoreML models, using OpenAI's GPT-3 APIs, and finally several semantic web/linked data examples. The book ends with the example KGN on the App Store. It is not my intention to cover in detail the use of SwiftUI for building iOS/iPadOS/macOS applications but I thought my readers might enjoy seeing several of the techniques covered in the book integrated into an example app.
I have used Common Lisp for AI research projects and for AI product development and delivery since 1982. There is something special about using a language for almost forty years. All that said, I find Swift a compelling choice now for several reasons:
Flexible language with many features I rely on like supporting closures and an interactive functional programming style.
Built in support for deep learning neural network models for natural language processing, predictive models, etc.
First class support for iOS and macOS development.
Good support for server side applications hosted on Linux.
Swift is a programmer-efficient language: code is concise and easy to read, and high quality libraries from Apple and third parties mean that often there is less code to write. I will share with you my Swift development work flow that combines interactive development of code in playgrounds, development of higher level libraries in text only or command line applications, and my general strategy for writing iOS and macOS applications after low level and intermediate code is written and debugged.
Parts of this Book are Specific for macOS and iOS, with Some Support for Linux
Swift is a general purpose language that is well supported in macOS, iOS, and Linux, with some support in Windows. Here, we cover the use of Swift on macOS and iOS. Some of the examples in this book rely on libraries that are specifically available on macOS and iOS like CoreML and the NLP libraries. Several book examples also work on Linux, such as the examples using SQLite, the Microsoft Azure search APIs, web scraping, and semantic web/linked data.
Code for this Book
Because of the way the Swift Package Manager works, I organized all book examples that build libraries as separate GitHub repos so the libraries can be easily used in other book examples as well as your own software projects. The separate library GitHub repositories are:
I suggest cloning all of these GitHub repositories right now so you can have the example source code at hand while reading this book.
All of the code examples are licensed using the Apache 2 license. You are free to reuse the book example code in your own projects (open source, commercial), with attribution of my copyright and the Apache 2 license.
Except for the last SwiftUI example application, all sample programs are written as command line utilities. I considered using Swift playgrounds for some of the examples but decided that packaging as a combination of libraries and command line utilities would tend to make the example code more useful for your own projects.
http://www.knowledgegraphnavigator.com/
Author's Background
I live in Sedona, Arizona with my wife and pet parrot. Our children and grandchildren live in California, Rhode Island, and the state of Washington.
I have written 20+ books, mostly about artificial intelligence. I have over 50 US patents.
I write about technologies that I have used throughout my career: knowledge representation using semantic web and linked data, machine learning and deep learning, and natural language processing. I am grateful for the companies where I have worked (SAIC, Google, Capital One, Olive AI, Babylist, etc.) that have supported this work since 1982.
As an author, I hope that the material in this book entertains you and will be useful in your work.
A Request from the Author
I spent time writing this book to help you, dear reader. I release this book under the Creative Commons license and set the minimum purchase price to Free in order to reach the most readers. If you found this book on the web (or it was given to you) and if it provides value to you then please consider doing the following to support my future writing efforts and also to support future updates to this book:
I enjoy writing and your support helps me write new editions and updates for my books and to develop new book projects. Thank you!
Cover Art
The cover picture was taken by WikiMedia Commons user Keta and is available for use under the Creative Commons License CC BY-SA 2.5.
CoreML Libraries Used in this Book
CoreML general overview: https://developer.apple.com/documentation/coreml
MLClassifier https://developer.apple.com/documentation/createml/mlclassifier
MLTextClassifier https://developer.apple.com/documentation/createml/mltextclassifier
NLModel https://developer.apple.com/documentation/naturallanguage/nlmodel
Natural Language Framework https://developer.apple.com/documentation/naturallanguage
MLCustomLayer https://developer.apple.com/documentation/coreml/mlcustomlayer
Swift 3rd Party Libraries
We use the following 3rd party libraries:
Acknowledgements
I thank my wife Carol for editing this manuscript, finding typos, and suggesting improvements.
Part 1: Introduction and Short Examples
We begin with a sufficient introduction for Swift to understand the programming examples. After introducing the language we will look at a few short examples that provide code and techniques we use later in the book:
Creating Swift projects
Writing command line utilities
Web scraping
Setting Up Swift for Command Line Development
Except for the last chapter in this book that uses Xcode for developing a complete macOS/iOS/iPadOS example application, I assume that you will work through the book examples using the command line and your favorite editor. If you want to use Xcode for the command line examples, you can open the Swift package file on the command line and open Xcode using, for example:
You notice that most of the examples are command line apps or libraries with command line test programs and the README.md files in the example directories provide instructions for building and running on the command line.
You can also run Xcode and from the File Menu open an example Package.swift file. You can then use the Product / Test menu to run the test code for the example. You might need to use the View / Debug Area / Active Console menu to show the output area.
I assume that you are familiar with the Swift programming language and Xcode.
Swift is a general purpose language that is well supported in macOS and iOS, with good support for Linux, and with some support in Windows. For the purposes of this book, we are only considering the use of Swift on macOS and iOS. Most of the examples in this book rely on libraries that are specifically available on macOS and iOS like CoreML and the NLP libraries.
There are great free resources for the Swift language on the web, in other commercial books, and Apple's free Swift books. Here I provide just enough material on the Swift language for you to understand and work with the book examples. After working through this book's material you will be able to add machine learning, natural language processing, and knowledge representation to your applications. There will be parts of the Swift language that we don't need for the material here, and we won't cover.
Installing Swift Packages
We will use the Swift Package Manager. You should pause reading now and install the Swift Package Manager if you have not already done so.
I occasionally use https://vapor.codes web framework library (although not in this book). We use this 3rd party library as an example for building a library locally from source code. Start by cloning the git repository https://github.com/vapor/vapor. Then:
I don't usually install libraries locally from source code unless I am curious about the implementation and want to read through the source code. Later we will see how to reference Swift libraries hosted on GitHub in a project's Package.swift file.
Creating Swift Packages
We will cover using the Swift Package Manager to create new packages using the command line here. Later we will create projects using Apple's XCode IDE when we develop the example application Knowledge Graph Navigator.
You will want to use the Swift Package Manager documentation for reference.
We will be generating executable projects and library (with a sample main program) projects. The commands for generating the stub for an executable application project are:
and build the stub of a library with a demo main program:
Accessing Libraries that You Write in Other Projects
You can reference Swift libraries using the Swift.package file for each of your projects. We will look at parts of two Swift.package files here. The first is for my SPARQL query client library that we will develop in a later chapter. This library SparqlQuery_swift is used in both book examples Knowledge Graph Navigator (KGN) macOS/iOS/iPadOS example application as well as a text version KnowledgeGraphNavigator_swift.
The Swift.package file for text version KnowledgeGraphNavigator_swift is shown here:
Hopefully you have cloned the git repositories for each book example and understand how I have configured the examples for your use.
For the rest of this book, you can read chapters in any order. In some cases, earlier chapters will contain implementations of libraries used in later chapters.
Background Information for Writing Swift Command Line Utilities
This short chapter contains example code and utilities for writing command line programs, using external shell processes, and using the FileIO library.
Using Shell Processes
The library for using shell processes is one of my GitHub projects so you can include it in other projects using:
You can clone this repository if you want to have the source code at hand:
The following listing shows the library implementation. In line 5 we use the constructor Process from the Apple Foundation library to get a new process object that we set fields executableURL and argList. In lines 8 and 9 we create a new Unix style pipe to capture the output from the shell process we are starting and attach it to the process. After we run the task, we capture the output and return it as the value of function run_in_shell.
As in most examples in this book we use the Swift testing framework to run the example code at the command line using swift test. Running swift test does an implicit swift build.
The test output (with some text removed for brevity) is:
FileIO Examples
This file I/O example uses the ShellProcess_swift library we saw in the last section so if you were to create your own Swift project with the following code listing, you would have to add this dependency in the Project.swift file.
When writing command line Swift programs you will often need to do simple file IO so let's look at some examples here:
I created a temporary Swift project with the previous code listing and a Project.swift file. I built and ran this example using the swift command line tool.
Unlike the example in the last section where we built a reusable library with a test program, here we have a standalone program contained in a single file so we will use swift run to build and run this example:
Swift REPL
There is an example of using the Swift REPL at the end of the next chapter on web scraping. For reference, you can start a REPL with:
You can import packages and interactively enter Swift expressions, including defining functions.
In the next chapter we will look at a longer example that scrapes web sites.
In the next chapter we will look at one more simple example, building a web scraping library, before getting to the machine learning and NLP part of the book.
Web Scraping
It is important to respect the property rights of web site owners and abide by their terms and conditions for use. This Wikipedia article on Fair Use provides a good overview of using copyright material.
The web scraping code we develop here uses the Swift library SwiftSoup that is loosely based on the BeautifulSoup libraries available in other programming languages.
For my work and research, I have been most interested in using web scraping to collect text data for natural language processing but other common applications include writing AI news collection and summarization assistants, trying to predict stock prices based on comments in social media which is what we did at Webmind Corporation in 2000 and 2001, etc.
I wrote a simple web scraping library that is available at https://github.com/mark-watson/WebScraping_swift that you can use in your projects by putting the following dependency in your Project.swift file:
Here is the main implementation file for the library:
Here I wrote utility functions to get the plain text from a web site, HTML header text, and anchors. You can clone this library and extend it for other types of HTML elements you may need to process.
The test program shows how to call the APIs in the library:
Here we run the unit tests (with much of the output not shown for brevity):
Running in the Swift REPL
This chapter finishes a quick introduction to using Swift and Swift packages for command line utilities. The remainder of this book comprises machine learning, natural language processing, and semantic web/linked data examples.
Part 2: Apple's CoreML and NLP Libraries
In this part we cover:
Short introduction to the ideas behind Deep Learning
Introduction of CoreML
Examples using CoreML
Introduction of NLP
Examples using NLP libraries
Deep Learning Introduction
Apple's work in smoothly integrating deep learning into their developer tools for macOS, iOS, and iPadOS applications is in my opinion nothing short of brilliant. We will finish this book with an application that uses two deep learning models that provide almost all of the functionality of the application.
Before diving into Apple's CoreML libraries in later chapters we will take a shallow dive into the principles of deep learning and take a lay-of-the-land look at the type of most commonly used models. This chapter has no example programs and is intended as background material.
Most of my professional career since 2014 has involved Deep Learning, mostly with TensorFlow using the Keras APIs. In the late 1980s I was on a DARPA neural network technology advisory panel for a year, I wrote the first prototype of the SAIC ANSim neural network library commercial product, and I wrote the neural network prediction code for a bomb detector my company designed and built for the FAA for deployment in airports. More recently I have used GAN (generative adversarial networks) models for synthesizing numeric spreadsheet data and LSTM (long short term memory) models to synthesize highly structured text data like nested JSON and for NLP (natural language processing). I have also written a product recommendation model for an online store using TensorFlow Recommenders. I have several USA and European patents using neural network and Deep Learning technology.
Here we will learn a vocabulary for discussing Deep Learning neural network models and look at possible architectures.
If you want to use Deep Learning professionally, there are two specific online resources that I recommend: Andrew Ng leads the efforts at deeplearning.ai and Jeremy Howard leads the efforts at fast.ai.
There are many Deep Learning neural architectures in current practical use; a few types that I use are:
Multi-layer perceptron networks with many fully connected layers. An input layer contains placeholders for input data. Each element in the input layer is connected by a two-dimensional weight matrix to each element in the first hidden layer. We can use any number of fully connected hidden layers, with the last hidden layer connected to an output layer.
Convolutional networks for image processing and text classification. Convolutions, or filters, are small windows that can process input images (filters are two-dimensional) or sequences like text (filters are one-dimensional). Each filter uses a single set of learned weights independent of where the filter is applied in an input image or input sequence.
Autoencoders have the same number of input layer and output layer elements with one or more hidden fully connected layers. Autoencoders are trained to produce the same output as training input values using a relatively small number of hidden layer elements. Autoencoders are capable of removing noise in input data.
LSTM (long short term memory) process elements in a sequence in order and are capable of remembering patterns that they have seen earlier in the sequence.
GAN (generative adversarial networks) models comprise two different and competing neural models, the generator and the discriminator. GANs are often trained on input images (although in my work I have applied GANs to two-dimensional numeric spreadsheet data). The generator model takes as input a "latent input vector" (this is just a vector of specific size with random values) and generates a random output image. The weights of the generator model are trained to produce random images that are similar to how training images look. The discriminator model is trained to recognize if an arbitrary output image is original training data or an image created by the generator model. The generator and discriminator models are trained together.
The core functionality of libraries like TensorFlow are written in C++ and take advantage of special hardware like GPUs, custom ASICs, and devices like Google's TPUs. Most people who work with Deep Learning models don't need to even be aware of the low level optimizations used to make training and using Deep Learning models more efficient. That said, in the following section I am going to show you how simple neural networks are trained and used.
Simple Multi-layer Perceptron Neural Networks
I use the terms Multi-layer perceptron neural networks, backpropagation neural networks and delta-rule networks interchangeably. Backpropagation refers to the model training process of calculating the output errors when training inputs are passed in the forward direction from input layer, to hidden layers, and then to the output layer. There will be an error which is the difference between the calculated outputs and the training outputs. This error can be used to adjust the weights from the last hidden layer to the output layer to reduce the error. The error is then backprogated backwards through the hidden layers, updating all weights in the model. I have detailed example code in several of my older artificial intelligence books. Here I am satisfied to give you an intuition of how simple neural networks are trained.
The basic idea is that we start with a network initialized with random weights and for each training case we propagate the inputs through the network towards the output neurons, calculate the output errors, and back-up the errors from the output neurons back towards the input neurons in order to make small changes to the weights to lower the error for the current training example. We repeat this process by cycling through the training examples many times.
The following figure shows a simple backpropagation network with one hidden layer. Neurons in adjacent layers are connected by floating point connection strength weights. These weights start out as small random values that change as the network is trained. Weights are represented in the following figure by arrows; in the code the weights connecting the input to the output neurons are represented as a two-dimensional array.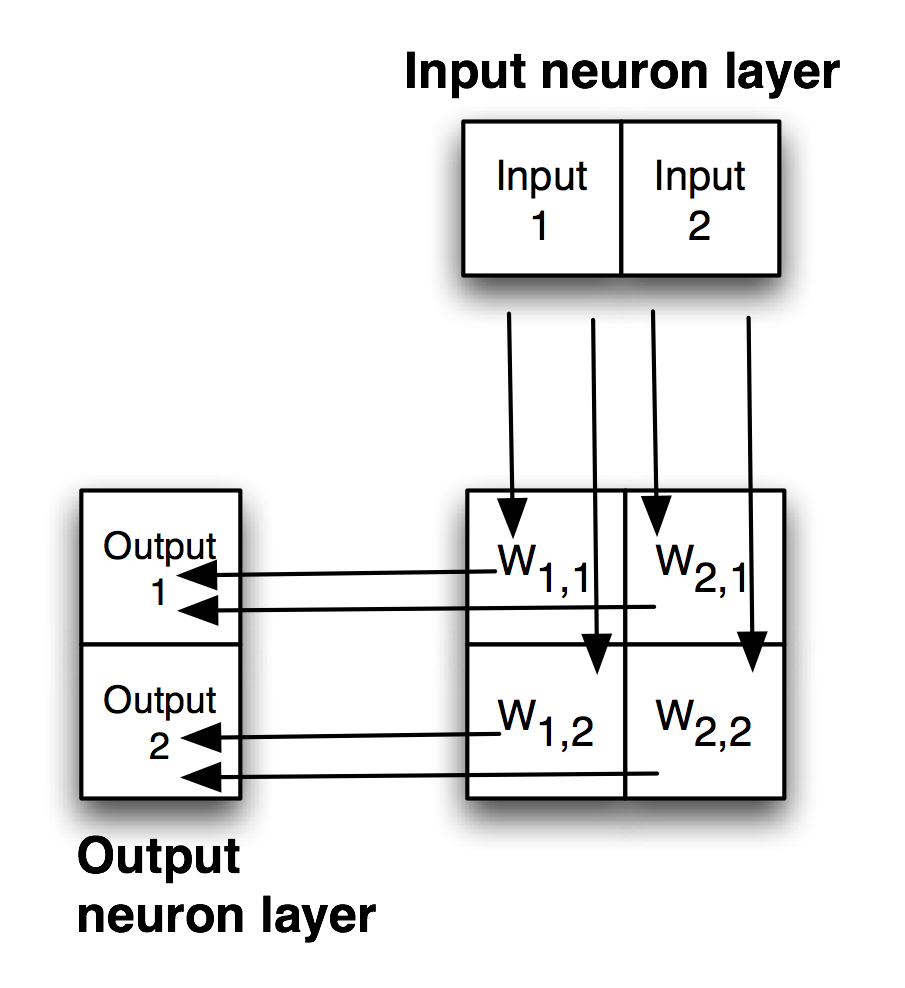 Each non-input neuron has an activation value that is calculated from the activation values of connected neurons feeding into it, gated (adjusted) by the connection weights. For example, in the above figure, the value of Output 1 neuron is calculated by summing the activation of Input 1 times weight W1,1 and Input 2 activation times weight W2,1 and applying a "squashing function" like Sigmoid or Relu (see figures below) to this sum to get the final value for Output 1's activation value. We want to flatten activation values to a relatively small range but still maintain relative values. To do this flattening we use the Sigmoid function that is seen in the next figure, along with the derivative of the Sigmoid function which we will use in the code for training a network by adjusting the weights.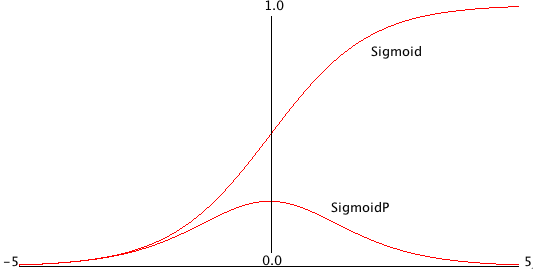 Simple neural network architectures with just one or two hidden layers are easy to train using backpropagation and I have from scratch code (using no libraries) for this several of my previous books. However, here we are using Hy to write models using the TensorFlow framework which has the huge advantage that small models you experiment with on your laptop can be scaled to more parameters (usually this means more neurons in hidden layers which increases the number of weights in a model) and run in the cloud using multiple GPUs.
Except for pedantic purposes, I now never write neural network code from scratch. I take instead advantage of the many person-years of engineering work put into the development of frameworks like TensorFlow, PyTorch, mxnet, etc. We now move on to two examples built with TensorFlow.
Deep Learning
Deep Learning models are generally understood to have many more hidden layers than simple multi-layer perceptron neural networks and often comprise multiple simple models combined together in series or in parallel. Complex architectures can be iteratively developed by manually adjusting the size of model components, changing the components, etc. Alternatively, model architecture search can be automated. At Capital One I used Google's AdaNet project that efficiently searches for effective model architectures inside a single TensorFlow session. Now all major cloud compute provides support some form of AutoML. You need to make a decision for yourself how much effort you want to put into deeply understanding the technology, or simply learning how to use pre-trained models.
Using Apple's Core ML Machine Learning and Deep Learning Libraries
NOTE: as of April 2022, this example does not work - problem with latest CreateML library.
Please note that this chapter is specific to Apple's libraries using pre-trained deep learning models.
I assume that you are generally familiar with Apple's CoreML documentation
There are two example GitHub repositories for this chapter:
In the last chapter we will use two deep learning models in a MacOS application that is available on Apple's App Store.
If you have taken a class in Machine Learning or Deep Learning, you learned how to divide a training data set into separate training, development (often refered to as "dev" sets), and test data sets. This process is handled internally by the CoreML libraries we use here so we will only be using a single training data file. The CoreML APIs we use here perform a type of AutoML (automatic machine learning) by trying to train a model using several model types and choosing the model type with the best accuracy. This is convenient and saves engineering time. A trained model imported into XCode automatically generates Swift APIs for using the model. You can also take a trained CoreML model and use it in Python programs (documentation for Python use cases).
Training a Classification Model For the University of Wisconsin Cancer Data
When building the example model (data in files wisconsin.mlmodel*), a Swift file wisconsin.swift is auto-generated. In the project Makefile, notice that the make target clean removes these files:
The file Sources/wisconsin_data/main.swift reads a training file in CSV format and uses the CoreML libraries to train a prediction model. You might want to uncomment the print statement in line 10 to see the contents of the CSV formatted (i.e., a spreadsheet file) training data file. In lines 11-13 we define which columns in the input training CSV file that we will use to build our model (in this case we use all the data features).
In this example we use Apple's APIs for MLClassifier that trains the following learning algorithms and keeps the best for the saved model:
Boosted trees classifier
Random forest classifier
Decision tree classifier
SVM
Logistic regression
There is optional material at the end of this chapter with background for these five types of models.
Using the Classification Model for the University of Wisconsin Cancer Data
The GitHub repo https://github.com/mark-watson/swift-coreml-wisconsin_data_predict_with_model contains a Makefile with a target for building the prediction code:
The file swift-coreml-wisconsin_data_predict_with_model/Sources/wisconsin_data/main.swift contains the prediction code:
We can run the prediction example on the command line:
I recommend that you read through Apple's documentation and bookmark the page for the CoreML classification modes.
Boosted Trees Classifiers are comprised of individual models summed together, where the simpler models are learned decision trees (a type of ensemble models).
Random Forest Classifiers are similar to Boosted Trees Classifiers except the ensemble sub-classifier comprising Random Forest Classifiers are each trained with a subset of the data.
You might also want to review Apple's documentation for the following conventional Machine Learning algorithms: Decision tree classifier, SVM, and Logistic regression.
Natural Language Processing Using Apple's Natural Language Framework
I have been working in the field of Natural Language Processing (NLP) since 1985 so I 'lived through' the revolutionary change in NLP that has occurred since 2014: Deep Learning results out-classed results from previous symbolic methods.
https://developer.apple.com/documentation/naturallanguage
I will not cover older symbolic methods of NLP here, rather I refer you to my previous books Practical Artificial Intelligence Programming With Java, Loving Common Lisp, or the Savvy Programmer's Secret Weapon, and Haskell Tutorial and Cookbook for examples. We get better results using Deep Learning (DL) for NLP and the libraries that Apple provides.
You will learn how to apply both DL and NLP by using the state-of-the-art full-feature libraries that Apple provides in their iOS and macOS development tools.
Using Apple's NaturalLanguage Swift Library
We will use one of Apple's NLP libraries consisting of pre-built models in the last chapter of this book. In order to fully understand the example in the last chapter you will need to read Apple's high-level discussion of using CoreML https://developer.apple.com/documentation/coreml and their specific support for NLP https://developer.apple.com/documentation/naturallanguage/.
There are many pre-trained CoreML compatible models on the web, both from Apple and also from third party (e.g., https://github.com/likedan/Awesome-CoreML-Models).
Apple also provides tools for converting TensorFlow and PyTorch models to be compatible with CoreML https://coremltools.readme.io/docs.
A simple Wrapper Library for Apple's NLP Models
I will not go into too much detail here but I created a small wrapper library for Apple's NLP models that will make it easier for you to jump in and have fun experimenting with them: https://github.com/mark-watson/Nlp_swift.
The main library implementation file is:
Here is some test code:
Using the OpenAI APIs
I have been working as an artificial intelligence practitioner since 1982 and the capability of the beta OpenAI APIs is the most impressive thing that I have seen (so far!) in my career. These APIs use the GPT-3 model. You will need to apply to OpenAI for a free API access key. I use their APIs frequently enough in my projects that I am on their paid plan.
I recommend reading the online documentation for the online documentation for the APIs to see all the capabilities of the beta OpenAI APIs. Let's start by jumping into the example code that is a GitHub repository https://github.com/mark-watson/OpenAI_swift that you can use in your projects.
The library that I wrote for this chapter supports three functions: for completing text, summarizing text, and answering general questions. The single OpenAI model that the beta OpenAI APIs use is fairly general purpose and can generate cooking directions when given an ingredient list, grammar correction, write an advertisement from a product description, generate spreadsheet data from data descriptions in English text, etc.
Given the examples from https://beta.openai.com and the Clojure examples here, you should be able to modify my example code to use any of the functionality that OpenAI documents.
We will look closely at the function completions and then just look at the small differences to the other two example functions. The definitions for all three exported functions are kept in the file src/openai_api/core.clj*. You need to request an API key (I had to wait a few weeks to recieve my key) and set the value of the environment variable OPENAI_KEY to your key. You can add a statement like:
to your .profile or other shell resource file that contains your key value (the above key value is made-up and invalid).
While I sometimes use pure Clojure libraries to make HTTP requests, I prefer using the curl utility to experiment with API calls from the command line before starting to write any code.
An example curl command line call to the beta OpenAI APIs is:
Here the API token "sa-hdffds7&dhdhsdgffd" on line 4 is made up - that is not my API token. All of the OpenAI APIs expect JSON data with query parameters. To use the completion API, we set values for prompt and max_tokens. The value of max_tokens is the requested number of returns words or tokens. We will look at several examples later.
In the file Sources/OpenAI_swift/OpenAI_swift.swift we start with a helper function openAiHelper that takes a string with the OpenAI API call arguments then extracts the results from the returned JSON data:
I convert JSON data to a string output by searching for constants "text:" and "index:" instead of using a JSON parser like I do in the later KGN example.
The three example functions all use this openAiHelper function. The first example function completions sets the parameters to complete a text fragment. You have probably seen examples of the OpenAI GPT-3 model writing stories, given a starting sentence. We are using the same model and functionality here:
Note that the OpenAI models are stochastic. When generating output words (or tokens), the model assigns probabilities to possible words to generate and samples a word using these probabilities. As a simple example, suppose given prompt text "it fell and", then the model could only generate three words, with probabilities for each word based on this prompt text:
The model would emit the word the 90% of the time, the word that 10% of the time, or the word a 10% of the time. As a result, the model can generate different completion text for the same text prompt. Let's look at some examples using the same prompt text. Notice the stochastic nature of the returned results with prompt text ""He walked to the river" passed twice to the OpenAI GPT-3 model:
First example:
Another example of text completion:
The function summarize is very similar to the function completions except the JSON data passed to the API has a few additional parameters that let the API know that we want a text summary:
presence_penalty - penalize words found in the original text (we set this to zero)
temperature - higher values the randomness used to select output tokens. If you set this to zero, then the same prompt text will always yield the same results (I never use a zero value).
top_p - also affects randomness. All examples I have seen use a value of 1.
frequency_penalty - penalize using the same words repeatedly (I usually set this to zero, but you should experiment with different values)
When summarizing text, try varying the number of generated tokens to get shorter or longer summaries; in the following examples we ask for 24, 90, and 150 output tokens (lines are broken to fit page width):
Notice the stochastic nature of the returned summarization results with prompt text "Jupiter is the fifth planet from the Sun and the largest in the Solar System. It is a gas giant with a mass one-thousandth that of the Sun, but two-and-a-half times that of all the other planets in the Solar System combined. Jupiter is one of the brightest objects visible to the naked eye in the night sky, and has been known to ancient civilizations since before recorded history. It is named after the Roman god Jupiter.[19] When viewed from Earth, Jupiter can be bright enough for its reflected light to cast visible shadows,[20] and is on average the third-brightest natural object in the night sky after the Moon and Venus.":
First summarization example:
Another summarization example:
The function answerQuestion is very similar to the function summarize except the JSON data passed to the API has one additional parameter that let the API know that we want a question answered:
stop - The OpenAI API examples use the value: [\n], which is what I use here.
We also need to prepend the string "nQ: " to the prompt text.
Additionally, the model returns a series of answers with the string "nQ:" acting as a delimiter between the answers.
I strongly urge you to add a debug printout to the question answering code to print the full answer before we check for the delimiter string. For some questions, the OpenAI APIs generate a series of answers that increase in generality. In the example code we just take the most specific answer.
Let's look at a few question answering examples and we will discuss possible problems and workarounds. The first two examples ask the same question and get back different, but reasonable answers. The third example asks a general question. The GPT-3 model is trained using a massive amount of text from the web which is why it can generate reasonable answers. Here are two examples for answering the question "Where was Leonardo da Vinci born?":
And another generated output for the same question:
In addition to reading the beta OpenAI API documentation you might want to read general material on the use of OpenAI's GPT-3 model. Since the APIs we are using are beta they may change. I will update this chapter and the source code on GitHub if the APIs change.
Part 3: Knowledge Representation and Data Acquisition
In this part we cover:
Introduction to the semantic web and linked data
A general discussion of Knowledge Representation
Create Knowledge Graphs from text input
Knowledge Graph Explorer application
Linked Data and the Semantic Web
Tim Berners Lee, James Hendler, and Ora Lassila wrote in 2001 an article for Scientific American where they introduced the term Semantic Web. Here I do not capitalize semantic web and use the similar term linked data somewhat interchangeably with semantic web.
In the same way that the web allows links between related web pages, linked data supports linking associated data on the web together. I view linked data as a relatively simple way to specify relationships between data sources on the web while the semantic web has a much larger vision: the semantic web has the potential to be the entirety of human knowledge represented as data on the web in a form that software agents can work with to answer questions, perform research, and to infer new data from existing data.
While the "web" describes information for human readers, the semantic web is meant to provide structured data for ingestion by software agents. This distinction will be clear as we compare WikiPedia, made for human readers, with DBPedia which uses the info boxes on WikiPedia topics to automatically extract RDF data describing WikiPedia topics. Let's look at the WikiPedia topic for the town I live in Sedona, Arizona, and show how the info box on the English version of the WikiPedia topic page for Sedona https://en.wikipedia.org/wiki/Sedona,_Arizona maps to the DBPedia page http://dbpedia.org/page/Sedona,_Arizona. Please open both of these WikiPedia and DBPedia URIs in two browser tabs and keep them open for reference.
I assume that the format of the WikiPedia page is familiar so let's look at the DBPedia page for Sedona that in human readble form shows the RDF statements with Sedona Arizona as the subject. RDF is used to model and represent data. RDF is defined by three values so an instance of an RDF statement is called a triple with three parts:
subject: a URI (also referred to as a "Resource")
property: a URI (also referred to as a "Resource")
value: a URI (also referred to as a "Resource") or a literal value (like a string or a number with optional units)
The subject for each Sedona related triple is the above URI for the DBPedia human readable page. The subject and property references in an RDF triple will almost always be a URI that can ground an entity to information on the web. The human readable page for Sedona lists several properties and the values of these properties. One of the properties is "dbo:areaCode" where "dbo" is a name space reference (in this case for a DatatypeProperty).
The following two figures show an abstract representation of linked data and then a sample of linked data with actual web URIs for resources and properties: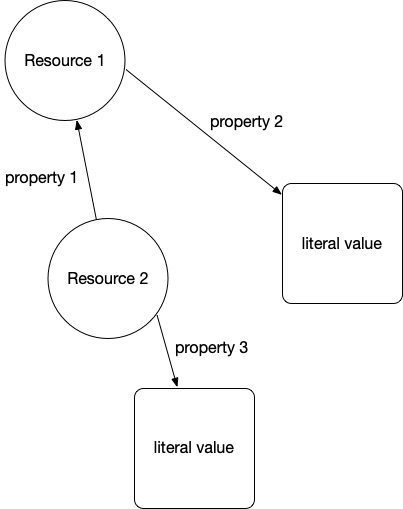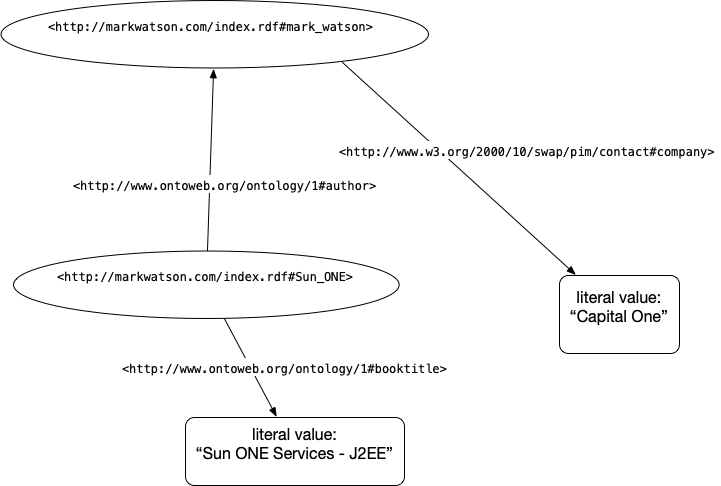 We will use the SPARQL query language (SPARQL for RDF data is similar to SQL for relational database queries). Let's look at an example using the RDF in the last figure:
This query should return the result "Sun ONE Services - J2EE". If you wanted to query for all URI resources that are books with the literal value of their titles, then you can use:
Note that ?s and ?v are arbitrary query variable names, here standing for "subject" and "value". You can use more descriptive variable names like:
We will be diving a little deeper into RDF examples in the next chapter when we write a tool for using RDF data from DBPedia to find information about entities (e.g., people, places, organizations) and the relationships between entities. For now I want you to understand the idea of RDF statements represented as triples, that web URIs represent things, properties, and sometimes values, and that URIs can be followed manually (often called "dereferencing") to see what they reference in human readable form.
Understanding the Resource Description Framework (RDF)
Text data on the web has some structure in the form of HTML elements like headers, page titles, anchor links, etc. but this structure is too imprecise for general use by software agents. RDF is a method for encoding structured data in a more precise way.
RDF specifies graph structures and can be serialized for storage or for service calls in XML, Turtle, N3, and other formats. I like the Turtle format and suggest that you pause reading this book for a few minutes and look at this World Wide Web Consortium Turtle RDF primer at https://www.w3.org/2007/02/turtle/primer/.
Frequently Used Resource Namespaces
The following standard namespaces are frequently used:
Let's look into the Friend of a Friend (FOAF) namespace. Click on the above link for FOAF http://xmlns.com/foaf/0.1/ and find the definitions for the FOAF Core:
and for the Social Web:
You now have seen a few common Schemas for RDF data. Another Schema that is widely used for annotating web sites that we won't need for our examples here, is schema.org.
Understanding the SPARQL Query Language
For the purposes of the material in this book, the two sample SPARQL queries here are sufficient for you to get started using my SPARQL library https://github.com/mark-watson/SparqlQuery_swift with arbitrary RDF data sources and simple queries.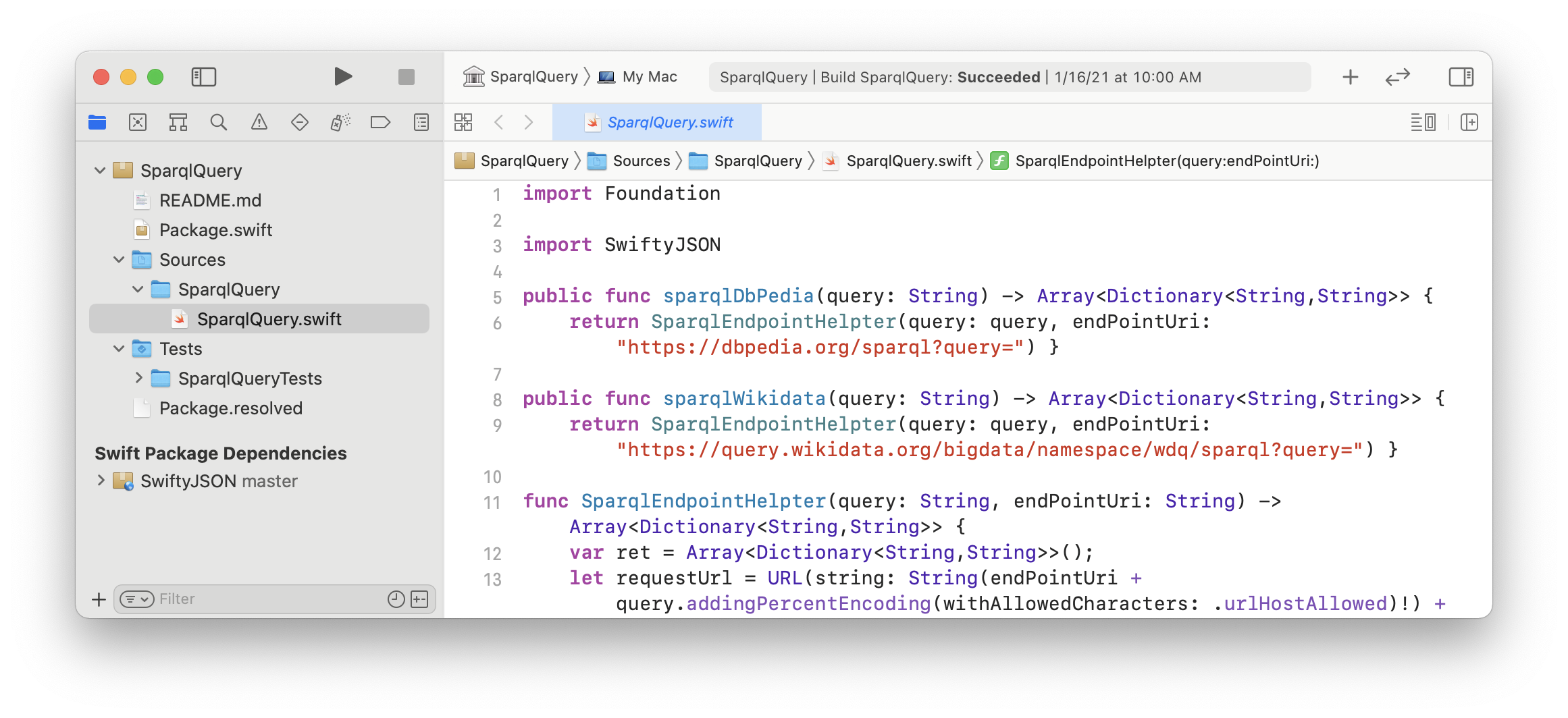 The Apache Foundation has a good introduction to SPARQL that I refer you to for more information.
Semantic Web and Linked Data Wrap Up
In the next chapter we will use natural language processing to extract structured information from raw text from SPARQL queries. We will be using my Swift SPARQL library https://github.com/mark-watson/SparqlQuery_swift as well as two pre-trained CoreML deep learning models.
Example Application: iOS and macOS Versions of my KnowledgeBookNavigator
I used many of the techniques discussed in this book, the Swift language, and the SwiftUI user interface framework to develop Swift version of my Knowledge Graph Navigator application for macOS. I originally wrote this as an example program in Common Lisp for another book project.
The GitHub repository for the KGN example is https://github.com/mark-watson/KGN. I copied the code from my stand-alone Swift libraries to this example to make it self contained. The easiest way to browse the source code is to open this project in Xcode.
I submitted the KGN app that we discuss in this chapter to Apple's store and is available as a macOS app. If you load this project into Xcode, you can also build and run the iOS and iPadOS targets.
You will need to have read through the last chapter on semantic web and linked data technologies to understand this example because quite a lot of the code has embedded SPARQL queries to get information from DBPedia.org.
The other major part of this app is a slightly modified version of Apple's question answering (QA) example using the BERT model in CoreML. Apple's code is in the subdirectory AppleBERT. Please read the README file for this project and follow the directions for downloading and using Apple's model and vocabulary file.
Screen Shots of macOS Application
In the first screenshot seen below, I had entered query text that included "Steve Jobs" and the popup list selector is used to let the user select which "Steve Jobs" entity from DBPedia that they want to use.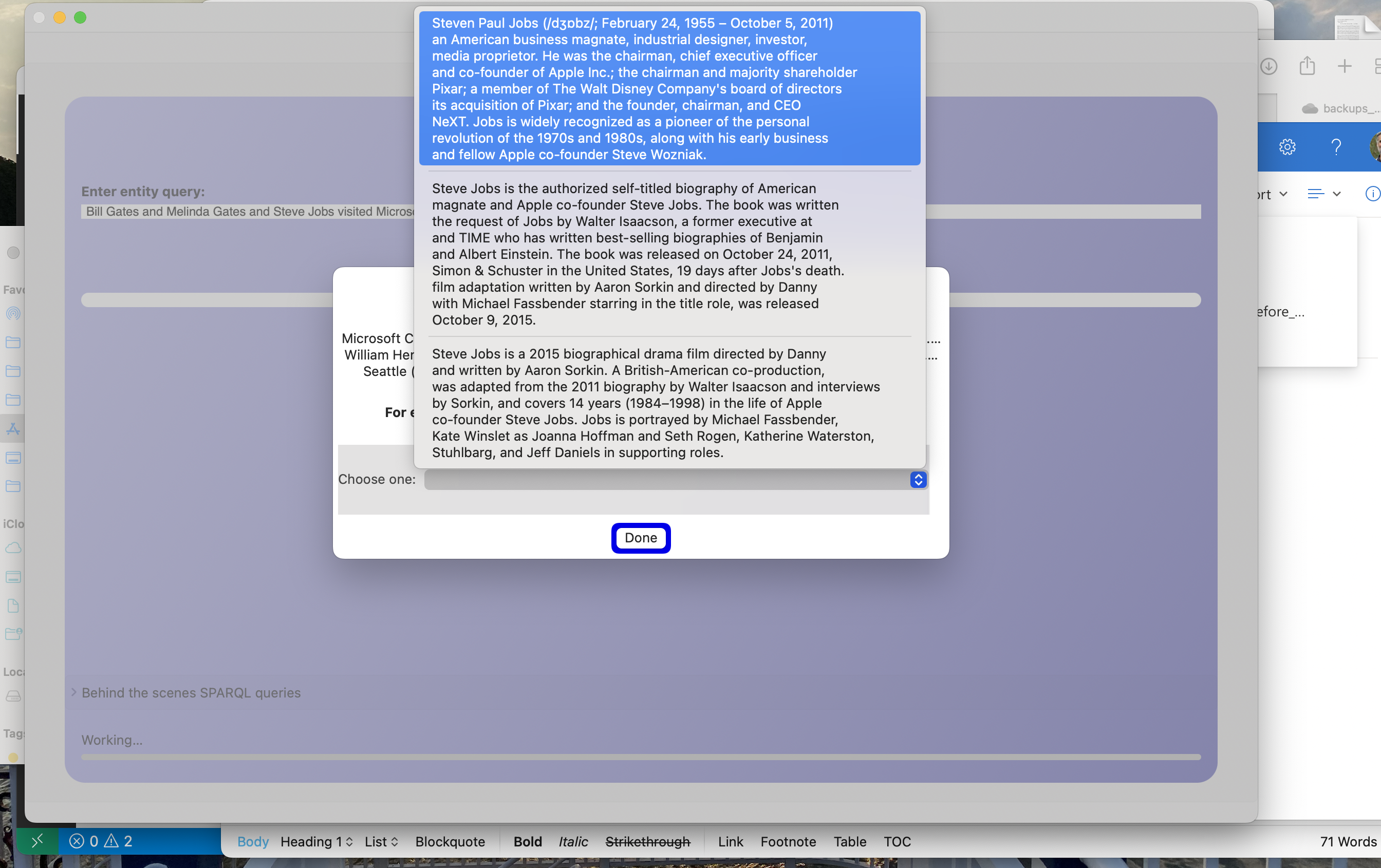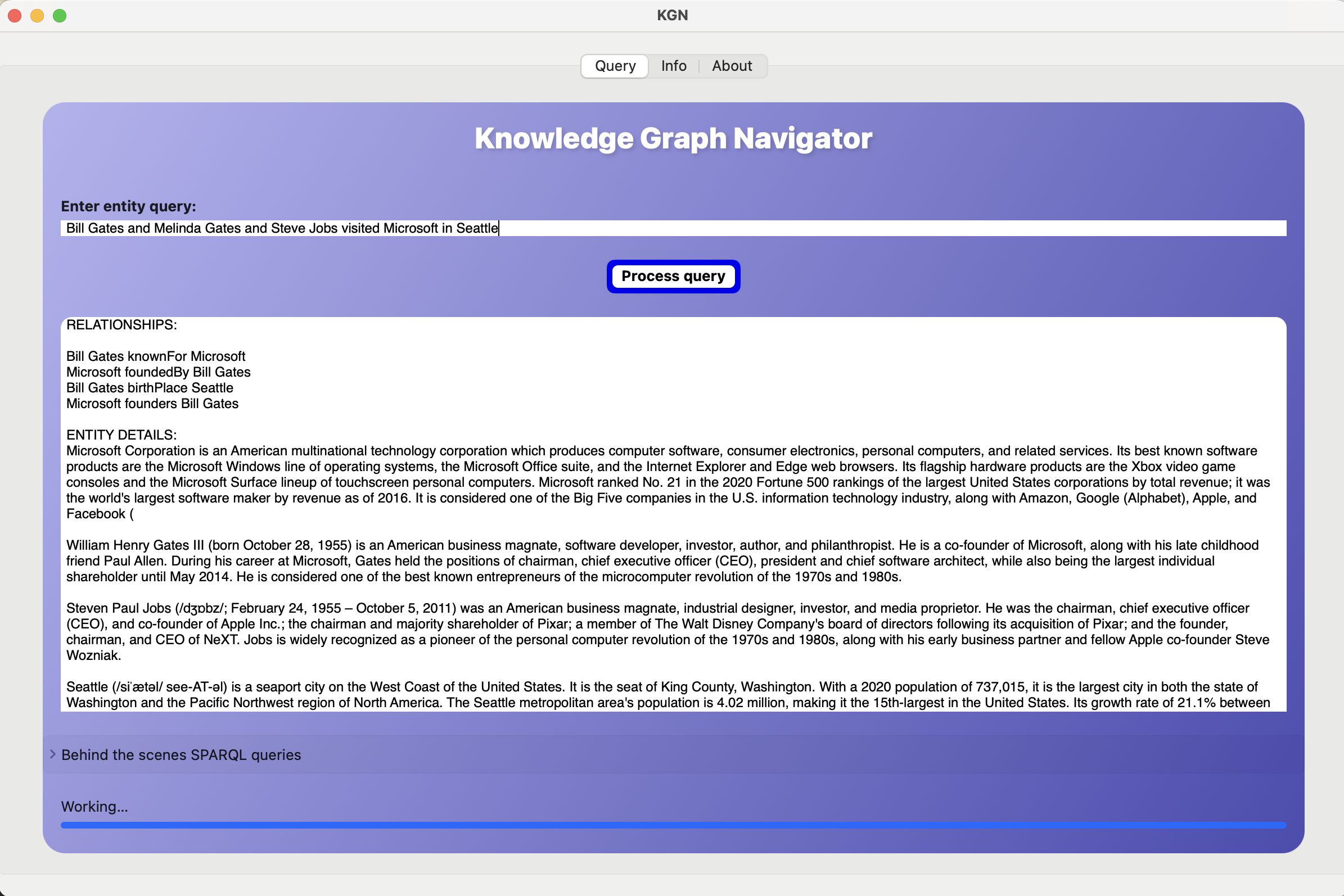 The previous screenshot shows the results to the query displayed as English text.
Notice the app prompt "Behind the scenes SPARQL queries" near the bottom of the app window. If you click on this field then the SPARQL queries used to answer the question are shown, as on the next screenshot: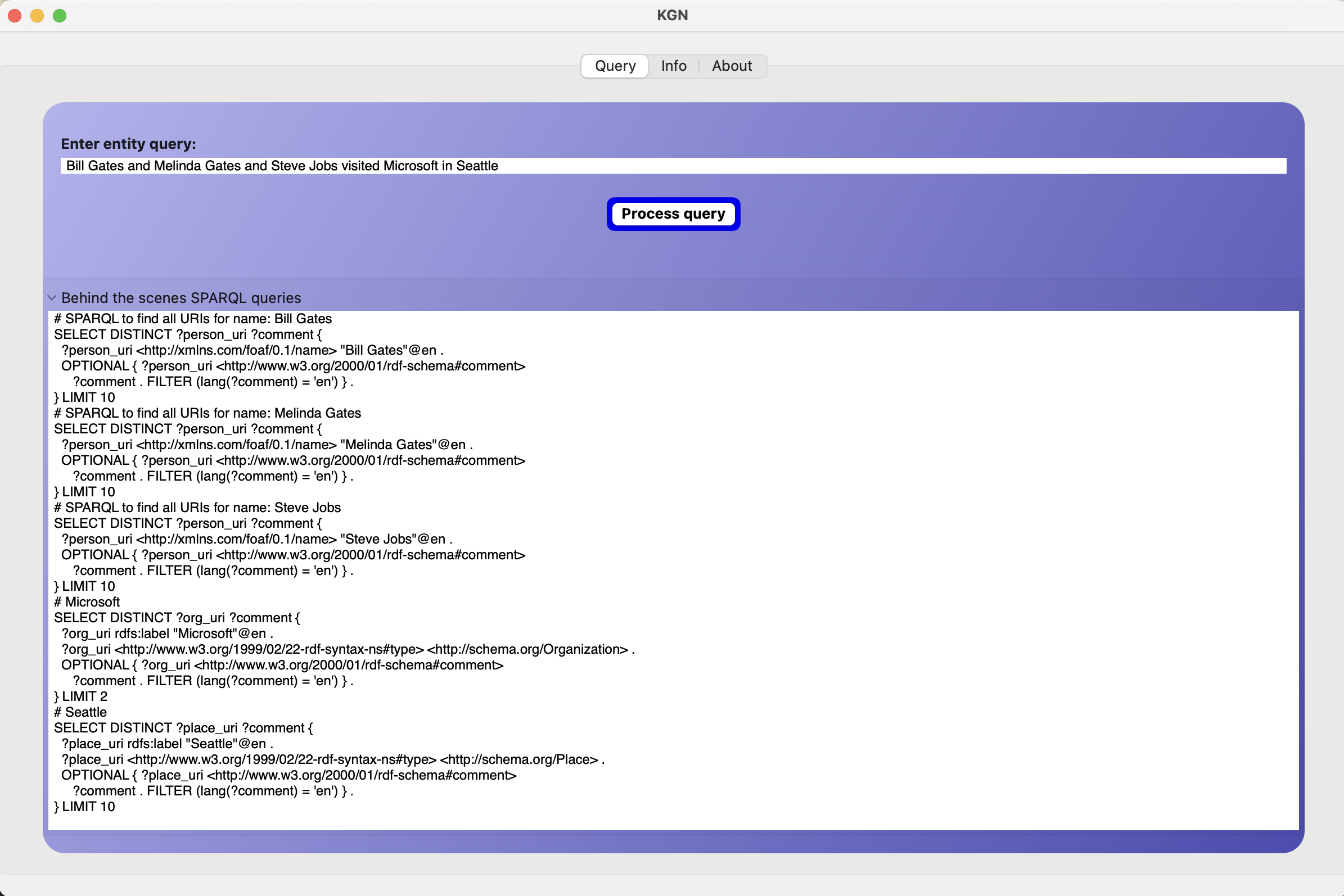 Application Code Listings
I will list some of the code for this example application and I suggest that you, dear reader, also open this project in Xcode in order to navigate the sample code and more carefully read through it.
SPARQL
I introduced you to the use of SPARQL in the last chapter. This library can be used by adding a reference to the Project.swift file for this project. You can also clone the GitHub repository https://github.com/mark-watson/Nlp_swift to have the source code for local viewing and modification and I have copied the code into the KGN project.
The file SparqlQuery.swift is shown here:
The file QueryCache.swift contains code written by Khoa Pham (MIT License) that can be found in the GitHub repository https://github.com/onmyway133/EasyStash. This file is used to cache SPARQL queries and the results. In testing this application I noticed that there were many repeated queries to DBPedia so I decided to cache results. Here is the simple API I added on top of Khoa Pham's code:
The code in file GenerateSparql.swift is used to generate queries for DBPedia. The line-wrapping for embedded SPARQL queries in the next code section is difficult to read so you may want to open the source file in Xcode. Please note that the KGN application prints out the SPARQL queries used to fetch information from DBPedia. The embedded SPARQL query templates used here have variable slots that filled in at runtime to customize the queries.
The file AppSparql contains more utility functions for getting entity and relationship data from DBPedia:
AppleBERT
The files in the directory AppleBERT were copied from Apple's example https://developer.apple.com/documentation/coreml/model_integration_samples/finding_answers_to_questions_in_a_text_document with a few changes to get returned results in a convenient format for this application. Apple's BERT documentation is excellent and you should review it.
Relationships
The file Relationships.swift fetches relationship data for pairs of DBPedia entities. Note that the first SPARQL template has variable slots <e1> and <e2> that are replaced at runtime with URIs representing the entities that we are searching for relationships between these two entities:
NLP
The file NlpWhiteboard provides high level NLP utility functions for the application:
The file NLPutils.swift provides lower level NLP utilities:
Views
This is not a book about SwiftUI programming, and indeed I expect many of you dear readers know much more about UI development with SwiftUI than I do. I am not going to list the four view files:
MainView.swift
QueryView.swift
AboutView.swift
InfoView.swift
Main KGN
The top level app code in the file KGNApp.swift is fairly simple. I hardcoded the window size for macOS and the window sizes for running this example on iPadOS or iOS are commented out:
I was impressed by the SwiftUI framework. Applications are fairly portable across macOS, iOS, and iPadOS. I am not a UI developer by profession (as this application shows) but I enjoyed learning just enough about SwiftUI to write this example application.
Book Wrap Up
I hope that you dear reader enjoyed this short book. While I enjoy programming in Swift and appreciate how well Apple has integrated machine learning capabilities in their iOS/iPadOS/macOS ecosystems, I still find myself writing most of my experimental code in Lisp languages and using Python for deep learning experiments and projects. That said, I am very happy that I have done the work to add Swift, CoreML, and SwiftUI to my personal programming tool belt.
I usually update my eBooks so if there is some topic or application domain that you would like added to future versions of this book, then please let me know. My email address is markw <at> markwatson <dot> com.