EU customers: Price excludes VAT.
VAT is added during checkout.
About the Track
Learn Python the Practical Way - In this course you learn all the basics of the Python programming language. It contains exercises, explanatory videos, an example solution and a quiz. This will enable you to apply your skills to a wide range of real world problems.
A collection of more Python exercises - Exercises with solutions to continue applying and practicing your Python skills.
Kickstart your programming skills now and learn to solve real world problems with Python!
Verified Certificate
When you successfully complete the Track, you will receive a verified Certificate of Completion from Leanpub, certifying that you have completed the entire Track.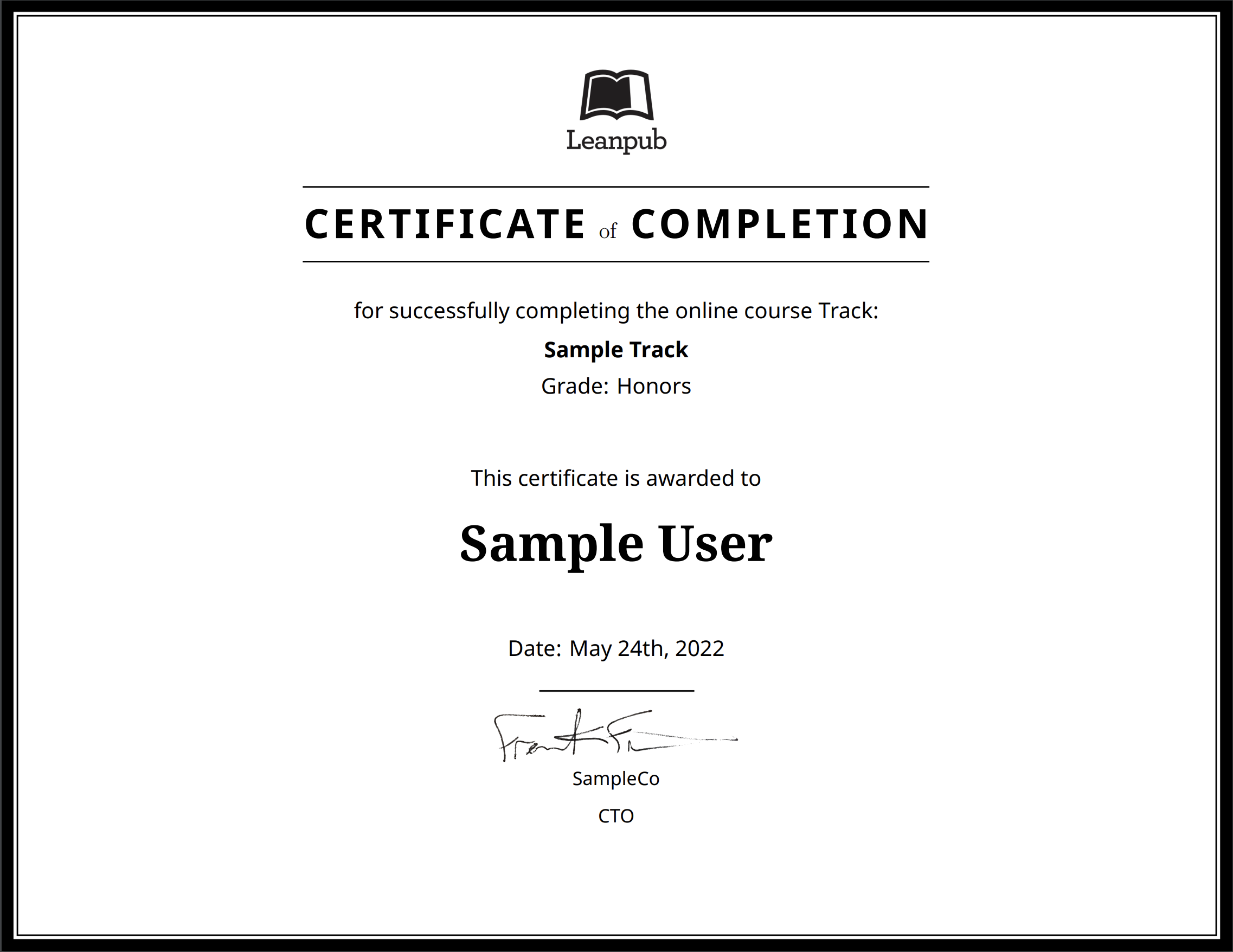 2 Courses Included
35

learners

100%

complete

english
Learn Python the Practical Way [Coding Interview Exercises]
Prepare for your next coding interview and learn the basics of Python programming with 20 exercises from practical interviews, code wars, and University lectures.
You'll learn based on a proven three-step approach to increase your skill level.
Read over the exercise problem,
Implement your solution, and
Watch master coders explain their solutions in a short video tutorial.
Test your knowledge with a quiz
There's nothing like deliberate practice when mastering any field. This course will boost your general Python skill level, increase your chances of success in your next code interview, and sharpen your practical problem-solving ability.
The more problems you solve, the more will your skills improve.
Towards Python Mastery!
Who is this course for?
Computer science students in their first 3 semesters.
Python newbies and complete beginners.
Programming intermediates who shift to Python from another programming language.
Ambitious coders seeking to rock their next code interview.
Engineers and knowledge workers who want to participate in the mega-trend Python.
Who this course is NOT for?
Python masters who already know all the basics by heart.
Advanced programmers who already "code in their dream jobs".
Coders-by-duty who don't feel the rush of excitement when solving a problem and give up quickly.
60

learners

100%

complete

english
Python Exercises Collection
This course is a collection of 35 hand selected Python exercises with solutions for beginners and advanced learners.
If you want to prepare for an exam or interview this is the course for you. But of course it will also help if you are just seeking to become a better coder.
Algorithmic thinking is an important skill which you can only learn by practice. You can read about all the theory and syntax of a language but still your brain needs practice. Therefore, I came up with this course to provide you with hand selected exercises and solutions so that you can hone your skills and develop your programmer mindset.
Practice all the Python basics:
variables
get user input
type conversion
loops
logic operators
arithmetic operators
if statements
functions
built-in functions
built-in data structures
algorithmic thinking
This course also contains the source code solutions of all the exercises, so that you can compare your code with a professional's code.
Thereby, you will be able to hone your skills further and see how experienced coders solve the tasks.
Instructors
I love coding and espacially in Python! Python is easy to learn and at the same time it is very powerful. Through the books I would like to help you to discover this! Therefore we designed our puzzle based teaching approach which helps you to learn quickly what you really need and with fun.

I have been working as a Software developer for several years. Currently I'm in the field of operations/SRE of cloud applications.
Chris is the founder of the programming education company FINXTER, author of the Coffee Break Python series of self-published books, the popular programming book Python One-Liners (NoStarch 2020), a doctorate computer scientist, and owner of one of the top 10 Python blogs worldwide.

His research interests include graph theory and distributed systems.

You can join the FINXTER email academy and consume a large body of free email courses about various topics in computer science and programming.
The Leanpub 60-day 100% Happiness Guarantee
Within 60 days of purchase you can get a 100% refund on any Leanpub purchase, in two clicks.

See full terms
80% Royalties. Earn $16 on a $20 book.
We pay 80% royalties. That's not a typo: you earn $16 on a $20 sale. If we sell 5000 non-refunded copies of your book or course for $20, you'll earn $80,000.

(Yes, some authors have already earned much more than that on Leanpub.)

In fact, authors have earnedover $12 millionwriting, publishing and selling on Leanpub.

Learn more about writing on Leanpub
Free Updates. DRM Free.
If you buy a Leanpub book, you get free updates for as long as the author updates the book! Many authors use Leanpub to publish their books in-progress, while they are writing them. All readers get free updates, regardless of when they bought the book or how much they paid (including free).

Most Leanpub books are available in PDF (for computers) and EPUB (for phones, tablets and Kindle). The formats that a book includes are shown at the top right corner of this page.

Finally, Leanpub books don't have any DRM copy-protection nonsense, so you can easily read them on any supported device.
Learn more about Leanpub's ebook formats and where to read them